Gold Coins - The Gold Eagle and the Gold Buffalo
The United States Mint produces many gold coins. In addition, one can also look at pre-1933 US gold coins (liberty head or Indian head) which are commonly traded by gold bullion investors. Today, the US Mint produces two bullion gold coins and additional "commemorative" coins whose design changes and are geared not only to people who want to invest in gold but those who also like to collect different designs from throughout history.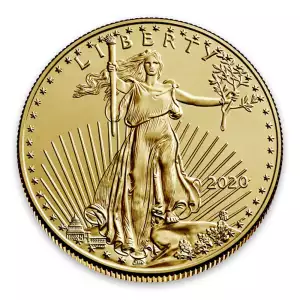 The US Mint started to produce the American Gold Eagle in 1986 after it was authorized under the Gold Bullion Coin Act of 1985. It immediately became the most popular gold coin in the country, overtaking the Canadian Gold Maple Leaf.
The obverse design of the Gold Eagle is taken from Augustus Saint Gaudens' original $20 gold piece used from 1907 - 1933 with Lady Liberty holding a torch and walking towards the viewer. The reverse shows a male eagle carrying an olive branch above with a female eagle and her hatchlings below in their nest, designed by Miley Frances Busiek. The eagle is stamped with its face value and fine weight of gold. It is made in 1/10, ¼, ½, and 1 oz weights, corresponding to a face value of $5, $10, $25, and $50, which is well below the value of the gold coins in terms of gold value.
The value of the coin is not tied to its face value but is tied to the underlying content of gold and price of gold, which fluctuates constantly during market hours. It is one of only two popular modern gold coins that is made out of a 22 karat gold alloy, comprising of 91.67% gold, 3.00% silver, and 5.33% copper. This alloy makes these coins more durable and scratch-resistant. As such, these coins actually weigh more than one troy ounce given the added copper and silver to the gold coin. The American Eagle gold coins remain the most popular bullion coins in the United States.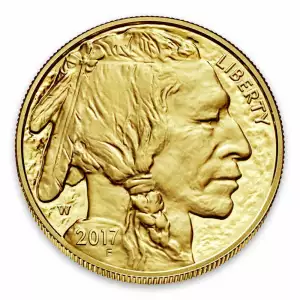 The American Gold Buffalo coin was introduced in 2006 by the U.S. Mint, primarily to provide a 24kt, or 9999 pure gold alternative against other world gold coins, most of which are made in 9999 fineness. US investors typically prefer to own U.S. Mint gold coins but many people who buy gold also like to own a pure 9999 gold coins. This was a driving force from the U.S. Mint when introducing these coins. The design of the gold buffalo is taken directly from the very popular "Indian Head" or "Buffalo" nickel, which was minted from 1913 through 1938. The design highlights the beauty of the American West. Aside from 2008, where the gold buffalo was made in the same four sizes as its eagle cousin, the gold buffalo is made in only a 1 troy ounce size.
Both the Eagle and the Buffalo can be purchased directly from the U.S. Mint, although the cost to buy it directly is much higher than buying it from a dealer. The Mint also makes these coins in a proof version where the coin is struck in a different manner during manufacturing which gives it a much better finish. Proof gold coins typically are much more expensive than the underlying gold price.
Pre-1933 US Gold Coinage
During the Great Depression in the 1930s, the President of the United States, Franklin Delano Roosevelt, made owning gold illegal. The public rationale was to stop people from hoarding gold and silver. In reality, it was to get more gold into the banking system so the Federal Reserve could increase credit. This was done through Executive Order 6102, and a full description of this order can be found on Wikipedia here.
Up to that point, American gold coins were commonly used in trade and commerce, with citizens holding both paper notes and coins. Gold coins in $1, $2.5, $3, $4, $5, $10, and $20 were in circulation and the official price of gold per US dollar was set at $20.75 before it was made illegal. As such, $20 Liberty Head or $20 Saint Gaudens coins had less than a troy ounce of gold in them. To be exact, their gold content was 0.9675 troy ounces.
Gold coins were always an alloy of gold and copper in those days, given that they were used in everyday transactions. They had to be durable and pure gold, which was quite hard to achieve for everyday use, being not only the softest of the four precious metals but the softest of all metals. Most gold dealers refer to these coins as "pre-1933 gold" coins. The vast majority of these coins are considered "common date" meaning they don't have significant collectible value. However, some are very rare and many investors also buy these numismatic gold coins to also potentially earn more if the collectible value also increases over time.
Other Modern Gold Coins from the U.S. Mint
The U.S. Mint has had a variety of other coin programs over the years. Prior to the introduction of the Gold American Eagle coin, the US Mint produced what is referred to as Art Medallions. These coins featured a variety of famous Americans and the coins were made in either 22kt or 90% gold (10% copper) alloys. Coins contained either one troy ounce or one-half troy ounce of gold. Lady Liberty is featured in some of the designs, but many bring about other aspects of US history.
The U.S. Mint has also had three different coin programs that contain precious metals, with each having a different design:
The 2016 Centennial Gold Coin Program
The Commemorative Gold Coin Program
The First Spouse Gold Coin Program
Each of these programs produced gold coins that appealed mostly to collectors, rather than purely investors. Nevertheless, many gold buyers also own these special edition coins with the anticipation or at least hope, that the collectible value will increase over time. There have been some special edition Liberty gold coins as well.
Where to Buy Gold Coins and which is the best Gold Coin to buy?
The answer to the first question is simple: Pacific Precious Metals.
Now we fully realize that we are not the only gold dealer in the United States, and there are many other precious metals dealers that are reputable and honest as well. However, for anyone looking to buy gold in the San Francisco Bay Area, we provide the best option.
We are available in Sausalito, Fremont, Palo Alto and Walnut Creek areas for you - come visit us and have a free consultation!
In addition, we can ship anywhere in the United States and our shipments are fully insured until you sign for the package.
Our business model is predicated on the fact that if you want to buy gold and you can buy it locally for less than compared to a big online, lifeless, inflexible only dealer, why would you go anywhere else. Buying gold isn't like buying a set of headphones. Its thousands of dollars and you want to make sure that if you are buying gold coins they are real. We test the gold coins you buy right in front of you with a variety of non-destructive tests.
Regarding what is the best gold coin to buy - It depends. History tells us that the value of gold will endure and we generally recommend that individuals interested in buying gold as an investment should buy the most commonly traded coins in the world. This includes the Gold American Eagle and the Gold American Buffalo.
For those that are not interested in the collecting aspect of coins and solely interested in bullion coins, it's important to think about the premium and spread for any coin.
Visit our Top Items page and peruse the variety of gold coins. Then add them to your cart and checkout!
Pacific Precious Metals offers a variety of American Gold Coins that you can get both online and in-person
If you're in the San Francisco Bay Area, don't hesitate to visit us and get the best offer today!
---
Have a question or concern about buying gold bullion?
Get a free consultation with an expert - call 415-383-7411
You can also send us a note on our website and we'll get back to you as soon as possible.