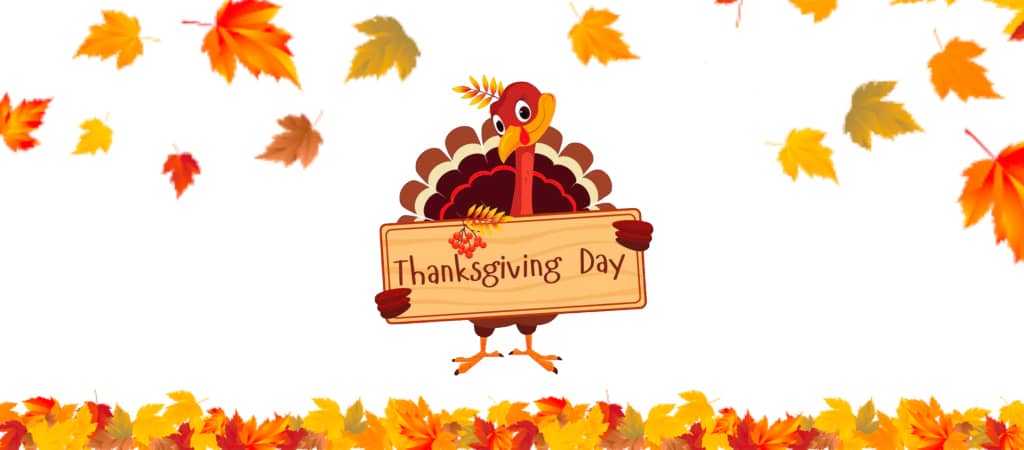 Thanksgiving, one of the most important US holidays, is nearing and it's time we spend with our loved ones to remind ourselves of everything we're thankful for.
Here at Pacific Precious Metals, we're particularly thankful for precious metals and how they can help people make smart investments for a better, brighter future, so we like to ask ourselves - what does Thanksgiving mean for the precious metals industry and the gold and silver market?
Is Thanksgiving an auspicious time to invest in bullion?
The answer is yes!
Holidays are indeed a very favorable season for bullion investing. The market is stable and it's your chance to get a hold of some gold and silver.
But is it also true even now, when we've been experiencing a global pandemic?
In short, yes!
If you follow the gold price regularly, you probably know that it's been on the rise in the past few months. The same goes for palladium. Although we witness slight daily fluctuations, gold and palladium have had a good year so far.
The issue with palladium, which is now more precious than gold, is that it's harder to find since the pandemic started and the price is very, very volatile. The demand for palladium is so high that supply cannot keep up with it. We recommend, however, that you should have a deep understanding of the palladium supply / demand before trying to enter that market.
And what about silver?
Silver's also had a good year. It's seen some ups and downs, but it's still considered a valuable, more affordable investment.
Of course, we're talking only about bullion, precious metals in the form of coins and bars. Bullion is the number one choice for individual investors and this Thanksgiving is your chance to make some profitable investments at incredibly low prices you can only find at Pacific Precious Metals.
Bullion To Buy This Thanksgiving
Your best option for bullion investments is gold and silver. Grab a chance to support US mints on a special US holiday that is Thanksgiving, and let's see what are some of the most sought after coins and bars.
Gold Bullion
American Gold Eagle - Is there a better coin to purchase for Thanksgiving than the magnificent, patriotic American Gold Eagle? This 1oz, 22K coin has a truly iconic design.
On the obverse, it shows a full-length figure of Lady Liberty, carrying a torch in her right hand and an olive branch in her left, with the Capitol in the background. The reverse depicts the great American Eagle, a symbol of freedom. The eagle is pictured as he flies above a nest with a female eagle and their hatchlings.
An interesting fact is that the American Gold Eagle is the only 22K coin that is IRA eligible, making it even more special. It's one of the most recognizable coins in the United States, and a staple piece every gold investor or a coin collector should own.
Besides that, the Gold Eagle is also highly liquid and it can now be found at a price as low as $99.00 per ounce above spot.
American Gold Buffalo - Let's say you already own a Gold Eagle, and now you'd like something else. In that case, you should definitely go with the American Gold Buffalo.
Unlike the Gold Eagle, the Gold Buffalo is a 1-ounce 24K coin, which means it contains one troy ounce of gold with a fineness of 9999. The United States Mint started producing this beautiful coin in 2008. They needed a 24k pure gold coin to compete with the Royal Canadian Mint's Gold Maple Leaf, and the Austrian Gold Philharmonic.
Many investors prefer to buy the Gold Buffalo over the Gold Eagle for its gold content. They argue that the 24K coin feels and looks better than the 22K, but the truth is, it's all subjective - they are both worthy and profitable investments.
The design of this coin is quite unique and identifiable, as it is the design that appeared on American Buffalo Nickel in 1913. The obverse features a side profile of an indigenous tribal figure with braided hair and a feather woven into it. There are also simple inscriptions - the word LIBERTY and the year of making. The reverse shows an image of an American Buffalo, hence the name.
Don't miss the chance to get this incredible gold coin for a price as low as $110.00 per ounce above spot.
Silver Bullion
American Silver Eagle - The American Silver Eagle is just as beautiful as the gold one, and a lot more affordable. Keep in mind that silver is a good opportunity for investments, as it offers pretty much the same benefits as gold. However, silver is a bit more volatile compared to gold, so be prepared for changes in the price.
The Silver Eagles were first produced by the US mint in 1986, and this one contains 1 troy ounce of silver with a 999 fineness. It's one of the most popular choices when it comes to silver bullion.
The design is quite stunning as it depicts all this great land of ours has to offer - it's a patriotic coin that celebrates freedom and equality.
The Silver Eagle is somewhat different than the Gold Eagle, although it features a similar design. The obverse has a historic Walking Liberty design - Lady Liberty as she walks towards the sun with a US flag draped over her shoulders. The reverse features an image of the American eagle with the national heraldic shield, arrows in one talon and an olive branch in the other. This stunning coin now goes for a price as low as $4.80 per ounce above spot.
Generic Silver Round - If you don't want coins, you can always go with rounds. A generic silver round is a good choice if you want silver but you have no particular design in mind. All generic silver rounds contain silver of 999 fineness and you can rest assured each and every single one of them is 100% authentic.
Keep in mind that silver is more volatile than gold, and therefore has a bit less steady price, but the generic silver rounds can be found now at a price as low as $3.00 per ounce above spot.