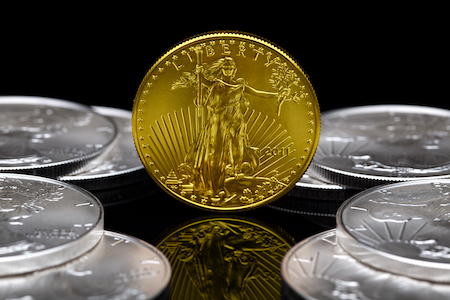 Gold Slips as Strong Dollar Counters Speculation of Peaking US Interest Rates. Yesterday gold climbed $17 or so on CPI numbers that missed expectations.
On Wednesday, gold experienced a slight decline as the U.S. dollar saw a modest increase, while the belief that the U.S. Federal Reserve might have concluded its interest rate hikes restrained the losses in bullion. Traders are looking for signs that the Fed has stopped its interest rate increases and yesterday's inflation prints led many to believe that the last rate hike is behind us.
As of 12:18 pm ET, spot gold was down 0.1% at $1,961.50 per ounce.
The appeal of bullion was affected as the dollar index (DXY) showed a 0.4% uptick, coupled with a rebound in the benchmark 10-year U.S. Treasury yields following a revision of retail sales data, revealing robust gains in September.
In the previous session, bullion had gained over 1% following data indicating that U.S. consumer prices remained basically unchanged in October and more importantly missed analysts expectations on the level of inflation for October. Additionally, U.S. producer prices experienced the most significant decline in 3-1/2 years for the same period, signaling a reduction in inflationary pressures.
David Meger, Director of Metals Trading at High Ridge Futures, remarked, "The results from CPI and PPI are positive, and it continues to support gold prices with the expectation that inflation will continue to pull back, adding to the expectation that the Fed is done raising interest rates." Time will tell if the Fed is actually done, but the latest inflation numbers point to a greater probability that we should expect cuts in interest rates, although that may not be until we see if the US will experience a recession next year.
According to the CME FedWatch tool, the market is currently pricing in a 100% chance that the U.S. central bank will maintain unchanged rates in December.
Despite gold being traditionally considered an inflation hedge, the appeal of non-yielding bullion diminishes with rising interest rates. Tai Wong, an independent metals trader based in New York, commented, "With yields backing up, gold is lower after the initial spike up. I think the outlook will remain positive for (gold) assets, but the moves will be more measured."
Investors also took note of data indicating a decline in U.S. retail sales for October, although the decrease was less than anticipated. This suggests slowing demand, further reinforcing expectations that the Fed has concluded its interest rate hikes.
Spot silver, on the other hand, saw a 1.6% increase, reaching $23.47 per ounce.
Dan Barrett is the Chairman of Pacific Precious Metals and the Founder of the Aureus Point-of-Sale system, a software platform made for bullion and coin dealers. He has been investing in physical gold and silver for over 15 years. His prior experience includes being an Analyst for a variety of Banks and Hedge Funds.
For More Information visit Pacific Precious Metals