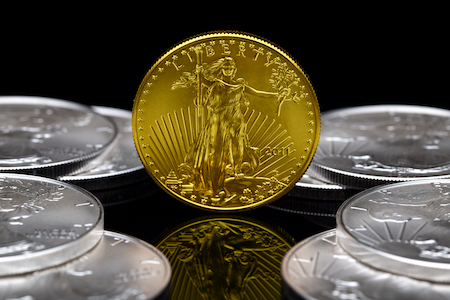 By Dan Barrett
Gold prices experienced an upswing on Thursday, propelled by a decrease in U.S. Treasury yields, with indications suggesting that the Federal Reserve has completed its cycle of rate hikes. Lower real interest rate expectations increase the desire to hold gold.
As of 08;55 EST, spot gold saw a 0.64% increase, reaching $1,972.11 per ounce.
Saxo Bank's Head of Commodity Strategy, Ole Hansen, remarked, "Gold will maintain its recent robust gains as long as the price remains above $1,930. The anticipation of lower rates and sustained demand from central banks should provide ample support, allowing it to withstand any short-term economic data strength.". The Chinese central bank, PBoC, has been on a buying binge of physical gold over the past year, adding over an estimate 500 tonnes to their holdings.
Recent data revealed a significant decline in U.S. producer prices for October, marking the most substantial drop in three-and-a-half years. Additionally, retail sales experienced their first contraction in seven months. Tuesday's data indicated that U.S. headline consumer prices remained unchanged in October, and more importantly missed traders inflation expectations. These signs of diminishing inflationary pressures have fueled investor speculation that the Federal Reserve has concluded its rate-hiking trajectory.
Hansen expressed a cautious bullish sentiment, stating, "A Santa rally in stocks may diminish gold demand from an alternative and safe-haven perspective, but overall, we remain patiently bullish." Gold is not a get rich quick scheme but rather a way to protect one's assets.
Despite gold's reputation as an inflation hedge, the allure of the non-yielding asset is heightened by lower interest rates and geopolitical turmoil.
Further supporting gold, the dollar index is off again, near a two-month low of 103.15, while benchmark U.S. 10-year Treasury yields dipped to 4.46%.
In the broader precious metals market, spot silver recorded a 2.0% climb to $23.90 per ounce, reaching a two-month high earlier in the session.
Dan Barrett is the Chairman of Pacific Precious Metals and the Founder of the Aureus Point-of-Sale system, a software platform made for bullion and coin dealers. He has been investing in physical gold and silver for over 15 years. His prior experience includes being an Analyst for a variety of Banks and Hedge Funds.
For More Information visit Pacific Precious Metals