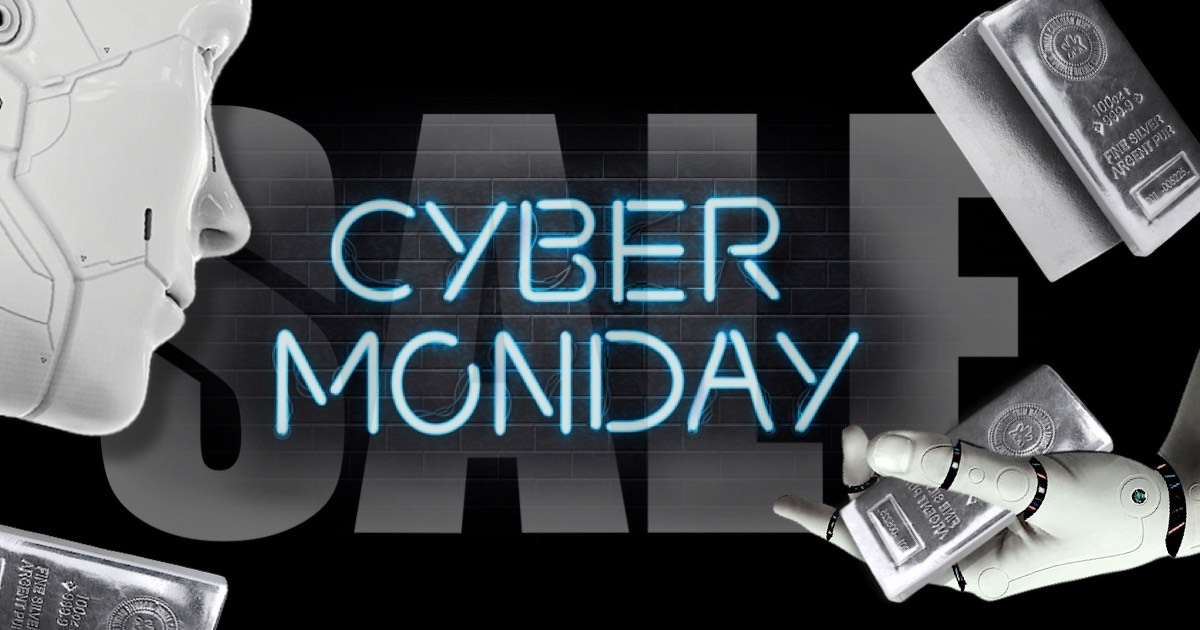 The biggest online shopping day of 2020 is around the corner, and this year it's on November 30th. With just a few weeks left to choose what to get on Cyber Monday, we've selected a few of our most special items to help you decide.
As it's always been, gold is still one of the best investments. Even though the world is in the middle of a global pandemic, gold is kind of unbothered by the recent events.
Quite the opposite - it's thriving.
For gold enthusiasts and investors, this isn't a surprise, it's just what always happens, so they know what a worthy investment it is.
Perhaps, lately, you've been wondering when's the right time to invest in gold. This may or may not shock you, but the answer to this question is always the same - the right time to invest in gold is today!
Although gold prices fluctuate on a daily basis, it's safe to say the price is on the rise in the long run, making gold one of the most lucrative tangible investments in 2020.
And silver comes close. Gold's more affordable friend often called 'poor man's gold', silver has had a good year as well.
And the other two precious metals?
Palladium is now in demand more than ever, and it's even more precious than gold. This is because it's 30 times rarer and hugely demanded by the auto industry for catalytic converters, among other things, so supply cannot meet the demand.
If you manage to get your hands on palladium bullion, consider yourself lucky.
As for platinum, well, tough luck. Platinum has seen one of the worst times in recent history and compared to the other three precious metals, it's just not as profitable. In short, this just isn't platinum's year.
So then, what will be the best purchase on the upcoming Cyber Monday?
Stay tuned to find out!
Gold Bullion
While it is true that palladium is a better investment than gold (for now), it's almost impossible getting your hands on it. So why not turn to the second-best, which is gold.
When it comes to gold bullion, the choices are endless.
There are so many spectacular gold coins and bars that make profitable investments. Let's see what we have prepared for you for this year's Cyber Monday.
There's just no way you can go wrong with this precious beauty. The American Gold Eagle is a staple among gold investments, a patriotic coin that depicts love and respect for the United States and the freedom it offers.
The Gold Eagle is one of the official gold bullion coins of the US Mint, and the weight of gold (1 troy ounce) is guaranteed by the US government.
It's a 22K coin with the most iconic design. The obverse depicts a full-length figure of Lady Liberty, holding a torch in her right hand and an olive branch in her left. The Capitol building can be seen in the background.
The reverse design shows an American Eagle, the symbol of patriotism and freedom. It's a male eagle that carries an olive branch while flying above a nest.
You can find this incredible coin at Pacific Precious Metals for a price as low as $99.00/oz above spot.
The Canadian Gold Maple Leaf is one of the most recognizable and in-demand coins in the world. It's a perfect addition to an investment portfolio or a great way to start one if you're a novice investor. At Pacific Precious Metals, you can get it for a price of $80.00/oz above spot.
This is a 24K gold coin, which means it's pure gold. The obverse features a side profile of Queen Elizabeth II, who is still Canada's reigning monarch and the reverse has an image of the iconic maple leaf. The weight and fineness are also shown on the reverse.
Canadian Royal mint produces this magnificent coin, and they are generally considered one of the most advanced mints in the world. Their anti-counterfeiting technology is unsurpassed and Pacific Precious Metals is proud to be listed as one of the trusted dealers in their advanced Bullion DNA Program.
You can always skip the coins and go straight for the bars. This 1oz gold bar is produced by PAMP Suisse, and it's made of 9999 fine gold.
The bar is called Fortuna as the obverse shows Lady Fortuna, the Roman Goddess of Luck and Fortune, with the horn of plenty. The reverse depicts the weight, purity, and a unique serial number.
The PAMP Suisse gold bars are generally preferred by investors for their high purity, liquidity, and exceptional quality. The gold content is guaranteed by the mint, and the good news is that you can find it at our price that goes as low as $88.00/oz above spot.
Silver Bullion
If you don't want to invest a lot of money into gold and you're looking for a more affordable option, you can always go with silver.
The Royal Mint of Britain produces a mesmerizing coin called Britannia that contains 1oz of 999 fine silver.
The obverse shows none other than Queen Elizabeth II an the reverse features an image of Britannia - a symbolic human representation of Britain.
The Silver Britannia is a great chance to invest in silver, especially when you can get it for $3.75/oz above spot.
100oz Royal Canadian Mint (RCM) Silver Bar
If you prefer bars over coins, it's highly recommended you go with smaller bars since they are more liquid.
This 100oz silver bar is made by the Royal Canadian mint and it has one of the most unique and interesting designs. While most silver coins and bars are made with a 999 fineness, RCM makes them to a fineness of 9999, and our special price goes as low as $3.30/oz above spot.